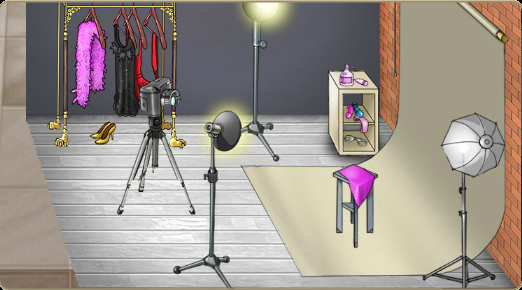 You can start your first photos (sic) productions here. The results won't win any awards, but you can earn enough with them to expand your business.
Unlocked: Reach level 2
Cost to Build: 400 Credits
Time to Build: 5 Minutes
Experience Gained: 150 Exp
Staff Requirements: Model with Photo Talents, Assistant with Photo Talents
Produces: Photos, Vintage Photos (Requires Photo Lab Level 2), 3D Photos (Requires Photo Lab Level 4)
-> These are products which you can collect once a production is finished. As soon as you picked the product up, you can sell it through you storage.
Level 1 Upgrades:Edit
| Image | Item | Cost | Exp Gain | Time Taken |
| --- | --- | --- | --- | --- |
| | Toybox | 100 Credits | 50 Exp | 45 Mins |
| | Background | 200 Credits | 50 Exp | 45 Mins |
| | Camera | 300 Credits | 50 Exp | 45 Mins |
| | Lights | 400 Credits | 50 Exp | 45 Mins |
| | Instant Level 2 | 36 Lula Diamonds | 200 Exp | Instant |
Level 2 Upgrades:Edit
| Image | Item | Cost | Exp Gain | Time Taken |
| --- | --- | --- | --- | --- |
| | Toybox | 500 Credits | 250 Exp | 90 Mins |
| | Background | 1000 Credits | 250 Exp | 90 Mins |
| | Camera | 1500 Credits | 250 Exp | 90 Mins |
| | Lights | 2000 Credits | 250 Exp | 90 Mins |
| | Instant Level 3 | 80 Lula Diamonds | 1000 Exp | Instant |
Level 3 Upgrades:Edit
| Image | Item | Cost | Exp Gain | Time Taken |
| --- | --- | --- | --- | --- |
| | Toybox | 1400 Credits | 700 Exp | 3 hours |
| | Background | 2800 Credits | 700 Exp | 3 hours |
| | Camera | 4200 Credits | 700 Exp | 3 hours |
| | Lights | 5600 Credits | 700 Exp | 3 hours |
| | Instant Level 4 | 176 Lula Diamonds | 2800 Exp | Instant |
Level 4 Upgrades:Edit
| Image | Item | Cost | Exp Gain | Time Taken |
| --- | --- | --- | --- | --- |
| | Toybox | 3500 Credits | 1750 Exp | 6 Hours |
| | Background | 7000 Credits | 1750 Exp | 6 Hours |
| | Camera | 10500 Credits | 1750 Exp | 6 Hours |
| | Lights | 14000 Credits | 1750 Exp | 6 Hours |
| | Instant Level 5 | 380 Lula Diamonds | 7000 Exp | Instant |