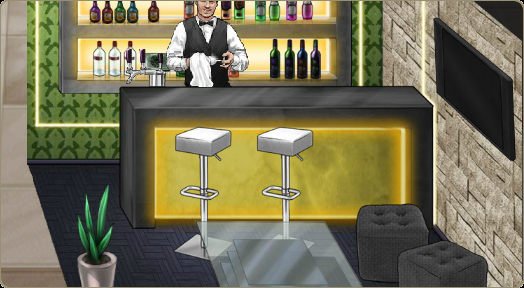 Some customers require a little more attention. Give them what they need, and let them spend a hot night with your models.
Unlocked: Level 19
Cost to Build: 30000 Credits
Time to Build: 20 Hours
Experience Gained: 100 Exp (Bugged??)
Staff Requirements: Model with Escort Talents
Produces: Escort Service, Pin-Up Escort, Diva Escort
-> These are services. Therefore you will not get a product once a productions is finished. You can collect the credits directly.
Level 1 Upgrades:Edit
| Image | Item | Cost | Exp Gain | Time Taken |
| --- | --- | --- | --- | --- |
| | Bar | 3100 Credits | 800 Exp | 30 Mins |
| | Plant | 3200 Credits | 800 Exp | Mins |
| | Barstool | 3000 Credits | 800 Exp | Mins |
| | Lounge | 2900 Credits | 800 Exp | Mins |
| | Instant Level 2 | 68 Lula Diamonds | 3200 Exp | Instant |
Level 2 Upgrades:Edit
| Image | Item | Cost | Exp Gain | Time Taken |
| --- | --- | --- | --- | --- |
| | Bar | 15500 Credits | 4000 Exp | 1 Hour |
| | Plant | 16000 Credits | 4000 Exp | 1 Hour |
| | Barstool | 15000 Credits | 4000 Exp | 1 Hour |
| | Lounge | 14500 Credits | 4000 Exp | 1 Hour |
| | Instant Level 3 | 284 Lula Diamonds | 16000 Exp | Instant |
Level 3 Upgrades:Edit
| Image | Item | Cost | Exp Gain | Time Taken |
| --- | --- | --- | --- | --- |
| | Bar | 43400 Credits | 11200 Exp | 2 Hours |
| | Plant | 44800 Credits | 11200 Exp | 2 Hours |
| | Barstool | 42000 Credits | 11200 Exp | 2 Hours |
| | Lounge | 40600 Credits | 11200 Exp | 2 Hours |
| | Instant Level 4 | 763 Lula Diamonds | 44800 Exp | Instant |
Level 4 Upgrades:Edit
| Image | Item | Cost | Exp Gain | Time Taken |
| --- | --- | --- | --- | --- |
| | Bar | 108500 Credits | 34440 Exp | 4 Hours |
| | Plant | 112000 Credits | 34440 Exp | 4 Hours |
| | Barstool | 105000 Credits | 34440 Exp | 4 Hours |
| | Lounge | 101500 Credits | 34440 Exp | 4 Hours |
| | Instant Level 5 | 1868 Lula Diamonds | 137760 Exp | Instant |