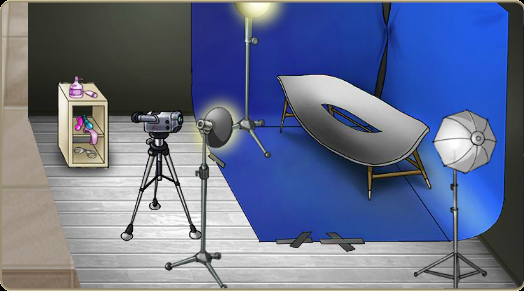 Add to your selection with video production. Show your customers what your models can do.
Unlocked: Level 12
Cost to Build: 8000 Credits
Time to Build: 6 Hours
Experience Gained: 500 Exp
Staff Requirements: Model with Video Talents, Assistant with Video Talents
Produces: Short Film, Video (Requires Editing Room Level 2), DVD (Requires Editing Room Level 4)
-> These are products which you can collect once a production is finished. As soon as you picked the product up, you can sell it through you storage.
Level 1 Upgrades:Edit
| Image | Item | Cost | Exp Gain | Time Taken |
| --- | --- | --- | --- | --- |
| | Background | 800 Credits | 250 Exp | 3 Hours |
| | Toybox | 900 Credits | 250 Exp | 3 Hours |
| | Camera | 1000 Credits | 250 Exp | 3 Hours |
| | Lights | 1100 Credits | 250 Exp | 3 Hours |
| | Instant Level 2 | 135 Lula Diamonds | 1000 Exp | Instant |
Level 2 Upgrades:Edit
| Image | Item | Cost | Exp Gain | Time Taken |
| --- | --- | --- | --- | --- |
| | Background | 4000 Credits | 1250 Exp | 6 Hours |
| | Toybox | 4500 Credits | 1250 Exp | 6 Hours |
| | Camera | 5000 Credits | 1250 Exp | 6 Hours |
| | Lights | 5500 Credits | 1250 Exp | 6 Hours |
| | Instant Level 3 | 316 Lula Diamonds | 5000 Exp | Instant |
Level 3 Upgrades:Edit
| Image | Item | Cost | Exp Gain | Time Taken |
| --- | --- | --- | --- | --- |
| | Background | 11200 Credits | 3500 Exp | 12 Hours |
| | Toybox | 12600 Credits | 3500 Exp | 12 Hours |
| | Camera | 14000 Credits | 3500 Exp | 12 Hours |
| | Lights | 15400 Credits | 3500 Exp | 12 Hours |
| | Instant Level 4 | 692 Lula Diamonds | 14000 Exp | Instant |
Level 4 Upgrades:Edit
| Image | Item | Cost | Exp Gain | Time Taken |
| --- | --- | --- | --- | --- |
| | Background | 28000 Credits | 8750 Exp | 24 Hours |
| | Toybox | 31500 Credits | 8750 Exp | 24 Hours |
| | Camera | 35000 Credits | 8750 Exp | 24 Hours |
| | Lights | 38500 Credits | 8750 Exp | 24 Hours |
| | Instant Level 5 | 1492 Lula Diamonds | 35000 Exp | Instant |