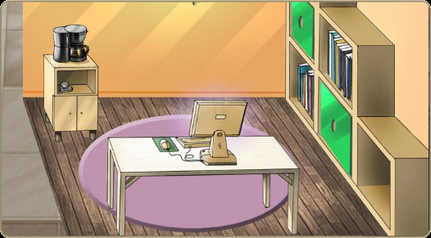 Anyone who isn't online today is living in the past. Open your models up to the world of the internet and provide the best websites and photo galleries.
Unlocked: Level 8
Cost to Build: 4000 Credits
Time to Build: 2 Hours
Experience Gained: 300 Exp
Staff Requirements: Model with Design Talents, Assistant with Technical Talents
Produces: Website, Photo Gallery (Requires Server Room Level 2), Game (Requires Server Room Level 4)
-> These are products which you can collect once a production is finished. As soon as you picked the product up, you can sell it through you storage.
Level 1 Upgrades:Edit
| Image | Item | Cost | Exp Gain | Time Taken |
| --- | --- | --- | --- | --- |
| | Designer Desk | 500 Credits | 150 Exp | 75 Mins |
| | High-End Computer | 600 Credits | 150 Exp | 105 Mins |
| | Library | 700 Credits | 50 Exp | 105 Mins |
| | Coffee Machine | 800 Credits | 160 Exp | 105 Mins |
| | Instant Level 2 | 82 Lula Diamonds | 510 Exp | Instant |
Level 2 Upgrades:Edit
| Image | Item | Cost | Exp Gain | Time Taken |
| --- | --- | --- | --- | --- |
| | Designer Desk | 2500 Credits | 750 Exp | 3.5 Hours |
| | High-End Computer | 3000 Credits | 750 Exp | 3.5 Hours |
| | Library | 3500 Credits | 250 Exp | 3.5 Hours |
| | Coffee Machine | 4000 Credits | 800 Exp | 3.5 Hours |
| | Instant Level 3 | 192 Lula Diamonds | 2550 Exp | Instant |
Level 3 Upgrades:Edit
| Image | Item | Cost | Exp Gain | Time Taken |
| --- | --- | --- | --- | --- |
| | Designer Desk | 7000 Credits | 2100 Exp | 7 Hours |
| | High-End Computer | 8400 Credits | 2100 Exp | 7 Hours |
| | Library | 9800 Credits | 700 Exp | 7 Hours |
| | Coffee Machine | 11200 Credits | 2240 Exp | 7 Hours |
| | Instant Level 4 | 425 Lula Diamonds | 7140 Exp | Instant |
Level 4 Upgrades:Edit
| Image | Item | Cost | Exp Gain | Time Taken |
| --- | --- | --- | --- | --- |
| | Designer Desk | 17500 Credits | 5250 Exp | 14 Hours |
| | High-End Computer | 21000 Credits | 5250 Exp | 14 Hours |
| | Library | 24500 Credits | 1750 Exp | 14 Hours |
| | Coffee Machine | 28000 Credits | 5600 Exp | 14 Hours |
| | Instant Level 5 | 924 Lula Diamonds | 17850 Exp | Instant |